Top 15 Books About Fake News & Misinformation
Misinformation is on the rise, and findings suggest that the internet is the primary conduit for fake news.
Speed is the name of the game when it comes to digital "news" and opinion. The digital consumer's craving for breaking news, bite-sized content, and click-bait headlines means that fake news thrives online.
Information in books is inherently more trustworthy than web-based content, though exceptions always exist. The act of writing a book is more methodical and measured than a Tweet or short-form blog post. Though self-publishing has become widely-accepted practice, there remain more checks and balances in book publishing than digital content.
It's only natural, then, that we turn to books for our most reliable information—information about misinformation, to be exact.
In the midst of an 'infodemic', we've identified books that are taking the fight against fake news to the written page. Whether you prefer e-books or the old-fashioned paperback or hardback, these books about fake news and misinformation are worth adding to your library.
Post-Truth by Lee McIntyre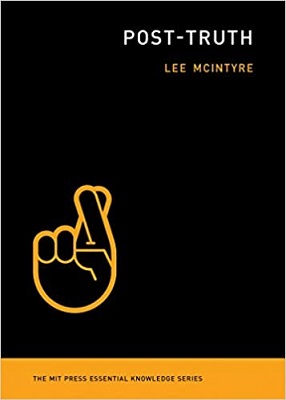 Lee McIntyre's 'Post-Truth' is part of the MIT Press Essential Knowledge Series. The book explains how we got here, to a time that is post-truth. Questions that the book examines include:
Have feelings become more heavily weighted than facts?
How did fake news come to be as ubiquitous as it is today?
What does it mean to be post-truth?
Post-truth examines the motives behind fake news. Are most who peddle misinformation malicious, or just misled?
Understanding the roots of fake news can be critical to media literacy. For this reason and others, 'Post-Truth' is a book worth considering.
The Misinformation Age: How False Beliefs Spread by Cailin O'Connor and James Owen Weatherall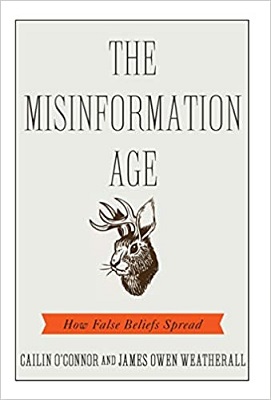 Published in January 2019, 'The Misinformation Age' focuses on the social factors that contribute to the spread of misinformation. It dissects the reasons that allow the continued spread of information known to be false.
We know that social media has a capacity to fuel the spread of fake news, but what if who we interact with on social media is just as important as the platforms themselves? Or even more important?
This book examines the validity of the assertion that 'what you believe depends on who you know'. In the age of fake news, does this still hold true?
How to Lie With Statistics by Darrell Huff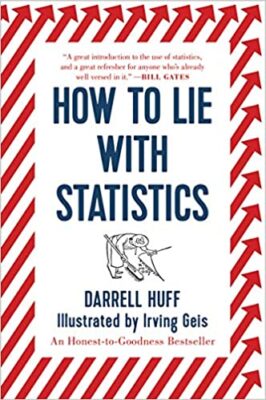 Statistics are one of the most effective means of spreading fake news. Those who are not able to recognize deceptive statistics are especially vulnerable to misinformation.
They're statistics, how could they possibly lie?
Right?!
Darrell Huff's 'How to Lie With Statistics' explains how those with varying agendas use statistics to intentionally deceive. Stats are next-level fake news, and this book serves as a next-level antidote to statistical deception.
Though it is one of the older works on this list (first published in 1954), Huff's warning that "there is terror in numbers" is as relevant today as ever before.
The Reality Game: How the Next Wave of Technology Will Break the Truth by Samuel Woolley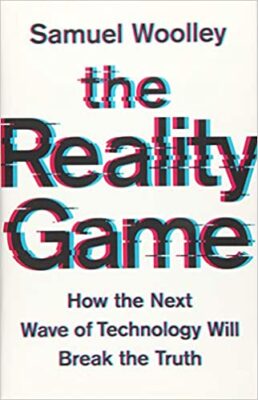 Samuel Woolley's 'The Reality Game: How the Next Wave of Technology Will Break the Truth' examines the intersection between technology, misinformation, and "fake news", as we have come to know intentionally misleading content posing as fact-based news.
Much has been written and said about how Twitter bots and online trolls have influenced real-world events like elections. 'The Reality Game' poses several solutions for separating online propaganda—fake news—from the revenue that it generates for Google, Facebook, and their digital peers.
Whether you ultimately agree or disagree with Woolley's solutions for curbing divisive, intentionally-deceptive internet content, the book touches on points that cannot be avoided in discussions of misinformation.
Active Measures: The Secret History of Disinformation and Political Warfare by Thomas Rid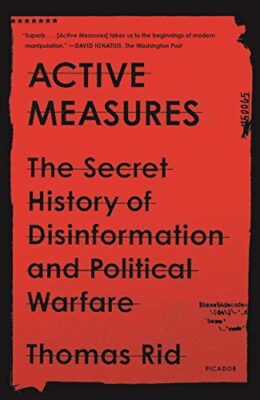 'Active Measures' looks at misinformation through a historical lens. Author Thomas Rid, who is a national security and technology expert, examines how misinformation has evolved from the craft of spy agencies to a mainstream threat…that is still the craft of spy agencies.
For those who want to learn about the current threat of misinformation in a way that is reminiscent of a Tom Clancy or Bond novel, you might check out 'Active Measures: The Secret History of Disinformation and Political Warfare'.
It turns out that fake news is not new, even if it's changed its stripes.
unSpun: Finding Facts in a World of Disinformation by Brooks Jackson and Kathleen Hall Jamieson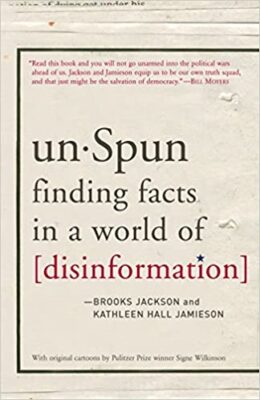 From the founders of FactCheck.org, 'unSpun' is a practical guide to navigating the treacherous world of disinformation, commonly referred to as "fake news".
From mixed messages to partial truths and outright lies, 'unSpun' addresses the various forms of fake news circulating social media, digital news outlets, and traditional broadcast television.
Topics include how to spot spin, finding trustworthy information sources, and determining what a healthy dose of skepticism is when it comes to "news". Released in 2007, 'unSpun' remains a helpful resource promoting media literacy in 2021.
Weaponized Lies: How to Think Critically in the Post-Truth Era by Daniel J. Levitin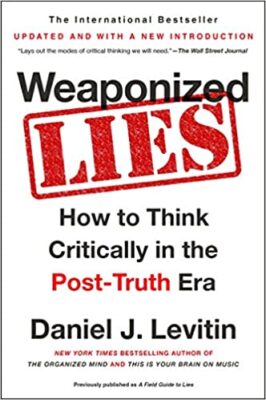 Daniel J. Levitin's 'Weaponized Lies' breaks down the specific methods used by purveyors of fake news. He explains:
How data and graphs can be used to intentionally deceive
How overly-wordy arguments can shroud a deceptive premise
How the scientific method applies to the act of news evaluation
As its title suggests, 'Weaponized Lies' guides the reader how to think critically in an era where truth is seemingly in short supply. For those looking for a practical handbook for traversing the modern media landscape, this is a suitable option.
Too Big To Know: Rethinking Knowledge Now That the Facts Aren't the Facts, Experts Are Everywhere, and the Smartest Person in the Room Is the Room by David Weinberger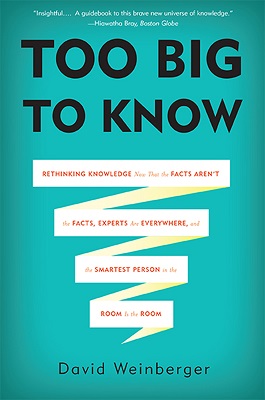 The information that we have access to is no longer confined to a book, or even a library. The internet has presented us with an infinitely vast well of information. But which of that information can we trust?
As 'Too Big to Know' explains, this is not just a problem for the average consumer. Separating truth from fact is an issue for corporations, institutions of science, and governments. Everyone is affected by misinformation.
As massive institutions develop better systems for sifting through misinformation, they can make more informed decisions. And, thanks to Weinberger's book, you may learn how to become a more critical consumer of information as well.
Ten Arguments for Deleting Your Social Media Accounts by Jaron Lanier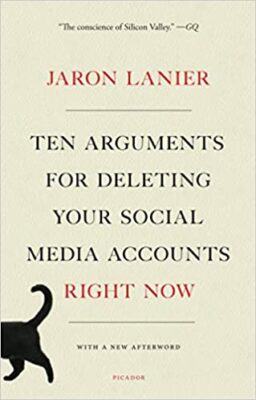 'Ten Arguments for Deleting Your Social Accounts' is not oriented directly around fake news…or is it? As the basis for the Netflix documentary 'The Social Dilemma', Jaron Lanier's book hits on many of the themes that are central to misinformation and fake news in 2021.
Themes like: how fake news preys on the consumer's emotions, how social media-driven misinformation degrades civil discourse, and what these effects are doing to us on a personal level.
You cannot speak of fake news in 2021 without considering the accelerating effect of social media. Among other points, Lanier's 'Ten Arguments for Deleting Your Social Media Accounts' takes a critical view of the symbiotic relationship between social media and those who spread fake news.
Trust Me, I'm Lying: Confessions of a Media Manipulator by Ryan Holiday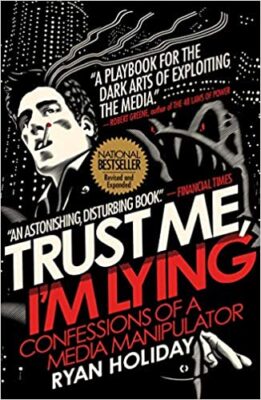 First published in 2012, Ryan Holiday's 'Trust Me, I'm Lying' is a behind-the-scenes peek into the psyche of intentional media manipulation.
Holiday drew from his experience as a marketer to shed light on:
How marketers help write the news
How the line between viral marketing and "news story" is thinner than you may realize
How to spot the signs of fake news
How algorithms have helped create a news media driven to extremes
Holiday has gone on to become one of the best-selling authors of his generation, but it was 'Trust Me, I'm Lying' that first resonated with audiences. Perhaps because so many of the fake news-centric lessons he provides ring true.
The Filter Bubble: How the Personalized Web Is Changing What We Read and How We Think by Eli Pariser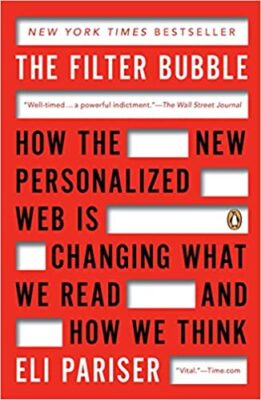 Eli Pariser's 'The Filter Bubble' traces the beginnings of the "personalized web", brought on in large part by Google algorithms.
This personalized web crafts the way we interact with a vast amount of the media that we consume. In shaping our news results, individual websites are increasingly dictating what news we say…and what news we don't.
The kicker: we may not even realize that the vast majority of our news is tailored specifically to us. Are you aware of which stories fall within your filter bubble, and which don't?
Why Learn History (When It's Already on Your Phone) by Sam Wineburg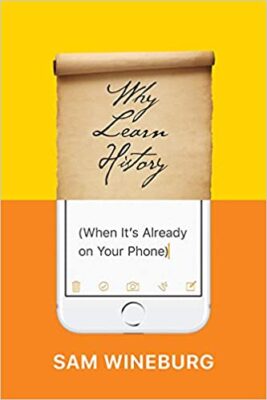 It's a good question: why take the time and effort to learn history when everything you could possibly want to look up a few taps away, on your phone?
Sam Wineburg's 'Why Learn History' is about much more than this simple (yet important) question. It's about the importance of teaching people how to compare the vast, often misleading landscape of digital information against a reliable information base.
And, more importantly, how to think critically about the media they consume.
Learning history the old-fashioned way may not be as important as it once was. However, as Wineburg explains, relying blindly on the information we come across in the digital sphere is a recipe for deception.
Information Wars: How We Lost the Global Battle Against Disinformation and What We Can Do About It by Richard Stengel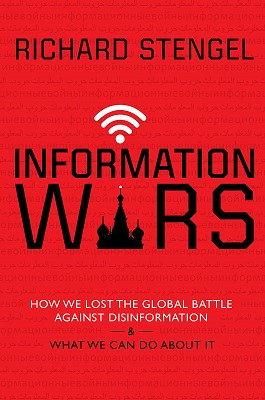 Richard Stengel is the former editor of Time magazine and served as Under Secretary of State for Public Diplomacy and Public Affairs between 2013 and 2016.
Stengel's book 'Information Wars' gives his perspective on the most debated real-world events relating to misinformation of the past decade. This is not necessarily a detached look into misinformation, but a look into how disinfo is being fought in real-world settings and scenarios.
And hey, who knows, maybe the battle against disinformation isn't quite over yet. You'll have to read the book to find out.
This Is Not Propaganda: Adventures in the War Against Reality by Peter Pomerantsev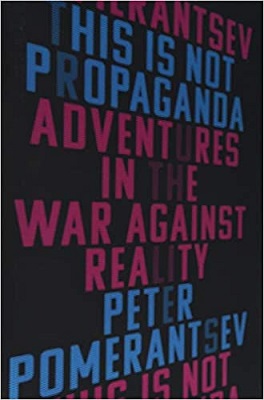 'This Is Not Propaganda: Adventures in the War Against Reality' takes an investigative approach to fake news.
Author Peter Pomerantsev strives to give readers a better understanding of disinformation by meeting with those involved in its trade. Through interviews with "Twitter revolutionaries", "behavioral change salesmen", and "truth cops", the author provides firsthand accounts illustrating what those who fight fake news are up against.
Pomerantsev also uses his family history as the son of parents once pursued by the KGB to trace the evolution of propaganda and fake news. 'This Is Not Propaganda' goes by the tagline 'when information is a weapon, everyone is at war'.
True Enough: Learning to Live in a Post-Fact Society by Farhad Manjoo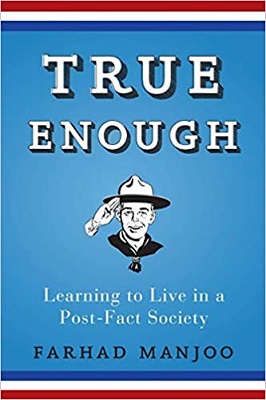 Farhad Manjoo's 'True Enough' addresses a pressing question: is most of what we believe based on the truth, or what we feel to be true?
Manjoo's analysis of real-world fake news combines tenets of psychology, economics, and sociology to separate commonly-held mistruths from fact.
With these examples, readers may learn to think more critically about their own beliefs as well as misinformation intentionally or unintentionally shared by others.
'True Enough' was published in 2008.
Closing
You can't turn on your television, check Twitter, or (for some) even attend a family gathering without encountering the topic of fake news. But what do you actually know about fake news?
With the books we've listed here, you are equipped to educate yourself about:
The history of fake news
The evolution of fake news
The different forms of fake news
How to spot and navigate the many forms of misinformation
"Know thy enemy" is a timeless axiom. If you want to know the enemy that is fake news, you can start by picking up one or more of these books.
There's no doubt that misinformation is rampant. But the more information that you have about misinformation, the better equipped you are to avoid victimhood via fake news.