14 Tools That Promote Media Literacy to Fight Fake News
Want to read our recently published State of Misinformation 2021 Report? Click HERE.
---
Fake news is a real challenge, but not one that is going unaddressed.
The first step in fighting any problem is the acknowledgment of its existence. We've achieved this step.
"Post-truth" was Oxford Languages' Word of the Year in 2016. Its definition of "post-truth" is "relating to or denoting circumstances in which objective facts are less influential in shaping public opinion than appeals to emotion and personal belief".
The common use of the term 'fake news' suggests widespread awareness that misleading information posing as news exists. The greater challenge is how to spot news that is intentionally misleading or otherwise not credible.
The answer is media literacy. This refers to one's ability to think critically about the stories they encounter, and to discern which "news" is trustworthy, and which is not.
Several projects are fighting fake news by teaching the public how to become more literate in the language of news consumption.
Checkology by the News Literacy Project
Checkology is a virtual classroom solution developed by the New Literacy Project. It provides interactive e-lessons taught by real-world journalists using real-world examples. Other features include a glossary of terms specific to news literacy and a Check Center, which allows Checkology users to continually test their critical evaluation skills.
Teachers can use Checkology as an all-in-one solution for teaching and testing their students on news literacy in the modern media landscape. The News Literacy Project launched Checkology in 2016, and the platform has become more useful than ever amid the global shift towards remote learning.
Making Sense of the News
Making Sense of the News: News Literacy Lessons for Digital Citizens is an online course first offered by Coursera in conjunction with New York's Stony Brook University and the University of Hong Kong in 2016. Coursera offers those who want to learn about news literacy the chance to enroll in the six-week course.
Each week offers a new topic, with examples including 'where can we find trustworthy information?' and 'how to apply news literacy concepts in real life'.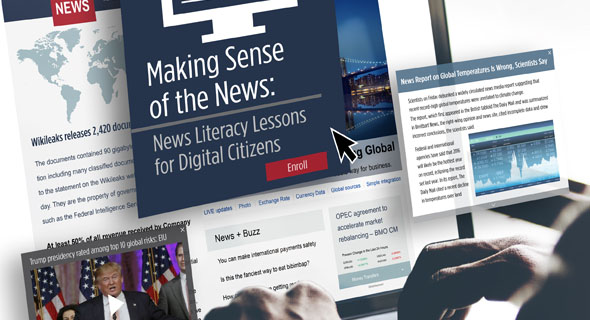 Interland by Google
Google's Interland is an online, adventure-based game that encourages kids to "Be Internet Awesome". Founded in 2018, it is a free resource that teaches "key lessons of digital safety" in an entertaining format.
The project is based on the premise that the internet can be a dangerous place. It fosters the idea that kids should be comfortable talking to their parents about questionable content or people that they encounter on the internet. Parents and educators can download Google's Be Internet Awesome Curriculum as a companion to, or independent of, the game.
Factitious
Factitious is a gamified solution that aims to teach users about real and fake news in a simple format. The instructions are straightforward: swipe right if you believe the article presented is real, and swipe left if you believe it is fake news.
Users can choose their difficulty level, ranging from easy (equivalent to middle school-level difficulty), medium (high school), and hard (college). With each answer, the platform provides tips for recognizing why the article might be real or fake.
Factitious was founded in 2017 by the American University Game Lab, and is updated to address relevant topics like the pandemic..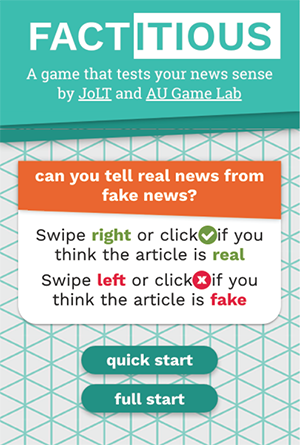 Fakey
Fakey is an online game developed by the Indiana University Network Science Institute (IUNSI). Launched in 2018, Fakey presents users with a news feed-style array of articles. Using only a headline, image, and description, users can indicate that the article seems credible by "sharing" or "liking" the article. They can indicate that it is suspect by selecting "fact-check".
Fakey is free to play and is intended to sharpen users' critical view of media by emulating the current digital media landscape.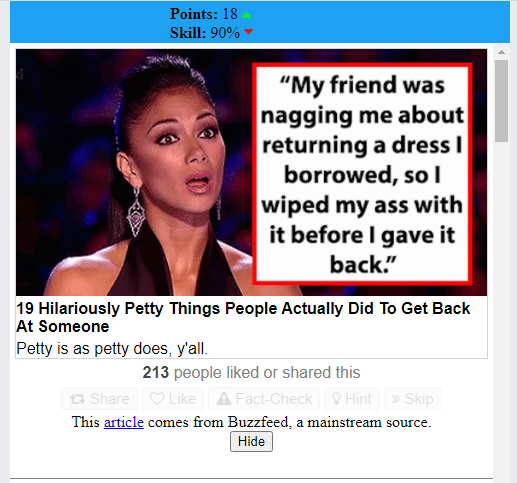 Ruff Ruffman: Humble Media Genius
Ruff Ruffman: Humble Media Genius is a web-based series of videos and quizzes aimed at improving media literacy. It is targeted towards a younger generation of learners, though it may appeal to anyone who prefers cartoon-based learning.
Lessons include Living Online, Green Tech, Driving, and Staying Safe. It also provides Spanish language courses and resources for parents who want to know what Ruff Ruffman is teaching their children. PBS launched the project in 2016.
PolitiTruth by PolitiFact
PolitiTruth is a "fake news quiz game" founded in 2017 by the fact-checking website PolitiFact. Using PolitiFact as the litmus test for truth and fiction, the game quizzes users on whether certain stories are true, or whether they have been debunked by PolitiFact staff.
The goal of the game's developers is to "raise awareness in politics and to encourage players to better discern sources of information".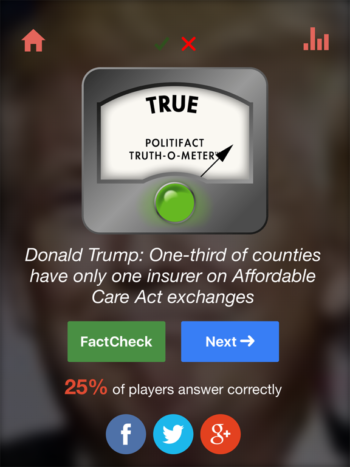 The Sift and Get Smart About News by the News Literacy Project
We combined these two resources because they are both email-based resources from the News Literacy Project. You can elect to receive The Sift and Get Smart About News by signing up here.
The Sift cites recent examples of misinformation in the news, also suggesting ways that educators can use the examples in a classroom setting. Get Smart About News provides similar roundups of real-world misinformation and explains how you can be more literate as a consumer who encounters such disinfo.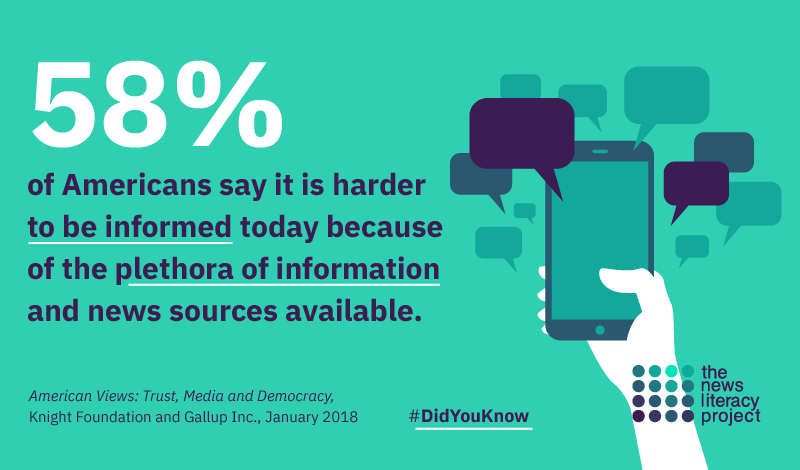 iReporter by BBC
BBC's iReporter puts users in the shoes of a reporter. The interactive experience is one of the lighter media literacy tools on this list. However, it will make users think about the challenges of fact-checking in the speed-obsessed media landscape.
By understanding the reporter's perspective, consumers may be better equipped to think critically about the motivations of those who create the news.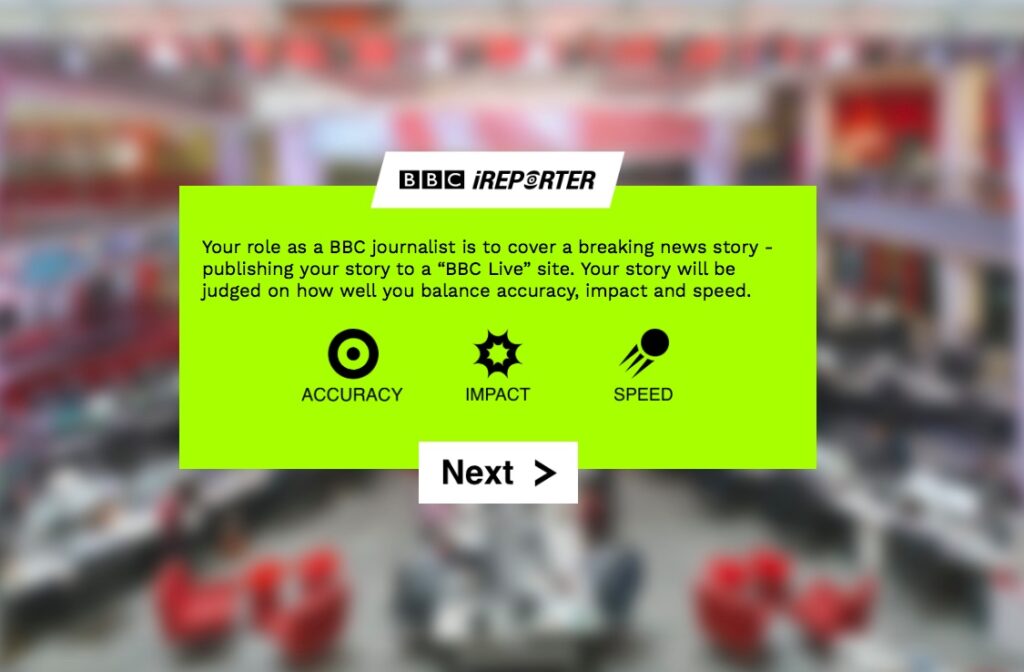 Parents' and Teachers' Guides to Critical Thinking by Reboot Foundation
Reboot Foundation is a Paris-based non-profit that provides several resources for media literacy. It provides tools for parents, teachers, employers, and others to foster critical thinking in the digital age.
Resources provided by the Reboot Foundation include its Parents' Guide to Critical Thinking and its Teachers' Guide to Critical Thinking. Reboot Foundation was founded in 2018. These guides provide a manual for teaching critical thinking practices in the classroom (including virtual classrooms) and at home.
MediaWise by the Poynter Institute
MediaWise, a brainchild of the Poynter Institute, is a collection of resources. It offers online courses, educational videos, and other content geared towards specific topics like voting. The Poynter Institute is a non-profit journalism school and research organization founded in 1975, and MediaWise was launched in 2018.
A notable feature of MediaWise is its targeted nature. It offers resources specifically for seniors, Gen Z-ers, and voters, with the goal of providing hyper-actionable information and advice.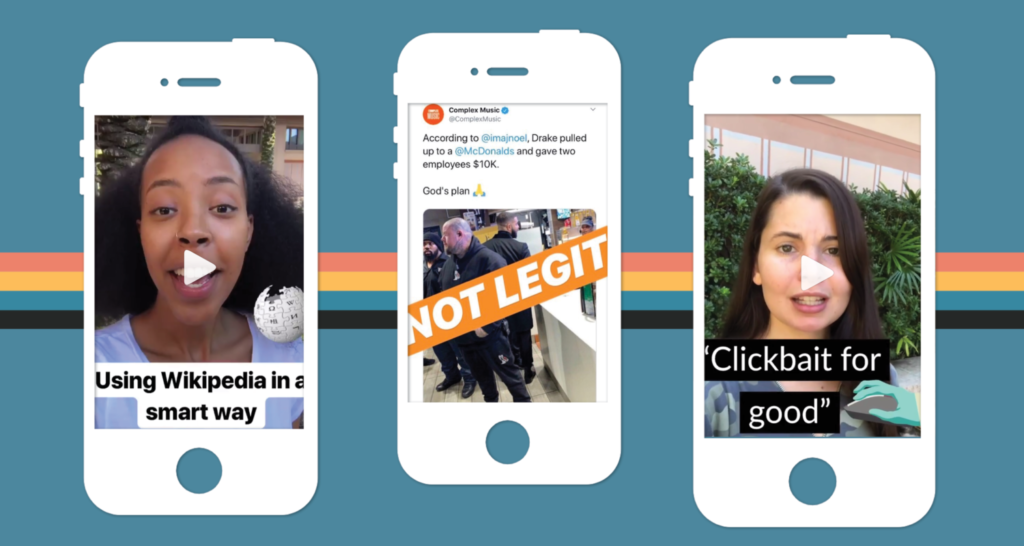 Informable by the News Literacy Project
Informable is a mobile application created by the News Literacy Project. Launched in 2019, Informable presents users with games that help them work on their media literacy.
Users can choose between four "modes":
Evidence or Not?
Checkable or Not?
News or Opinion?
Ad or Not?
As they answer more questions correctly, they can advance through respective levels of the game. Informable is meant to be an at-home complement to the News Literacy Projects' in-classroom offerings.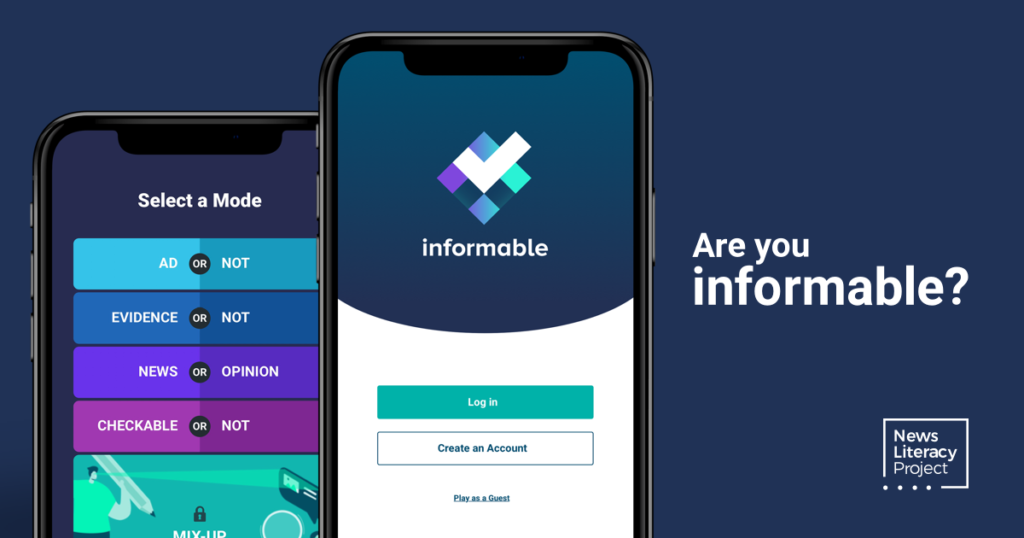 Bad News
Bad News is an online game that allows users to play the role of fake news creator/spreader. Rather than teach lessons about media literacy in a traditional way, it allows users to understand what goes through the heads of those who create fake news.
In a clever twist, the user's credibility decreases as their follower count increases. The game provides a lesson about how influence and honesty in news can sometimes be at direct odds. The Bad News game was founded in 2018.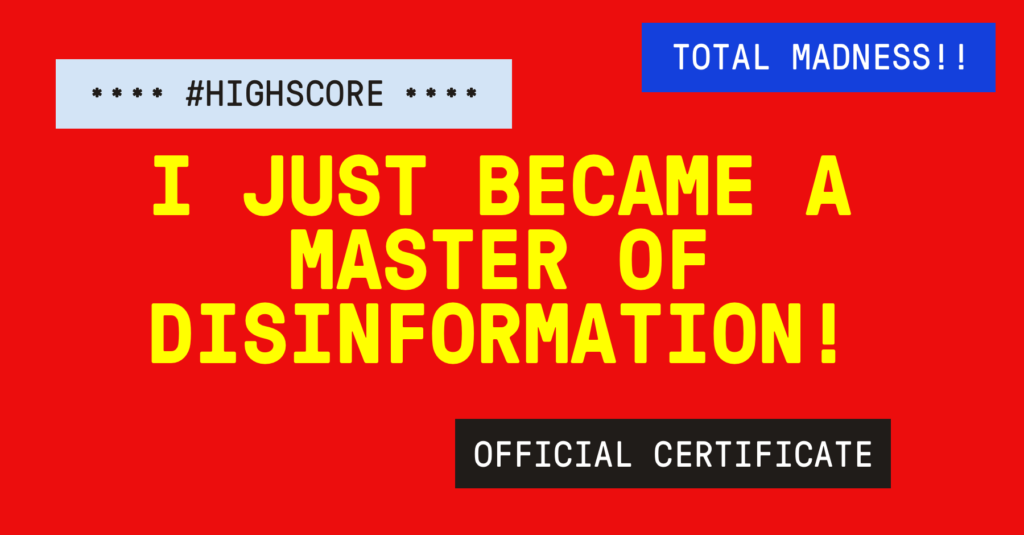 NewsFeed Defenders by iCivics
Launched in 2018, NewsFeed Defenders is a game app developed by iCivics. The game puts users in a fictional social media app called Newsably. The game tasks users with growing the site, but a critical component is spotting and eliminating "fake news".
False reporting, disguised ads, and non-newsworthy viral content are among the threats that players will have to defend their platform from.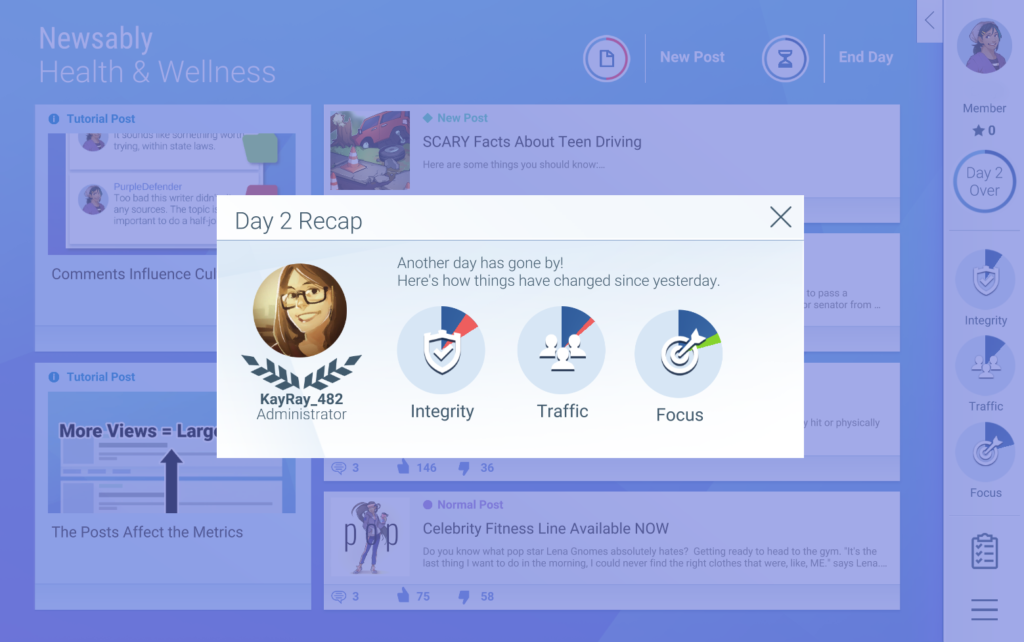 The Need for Media Literacy Is Greater than Ever
The internet is a virtually-infinite resource, and one that is beyond centralized policing. It is critical that the user know how to discern between trustworthy and untrustworthy information on their own.
Media literacy means teaching people of all ages how to think critically in the digital media age. Considering the breadth of information, complexity of topics, and room for bias that defines media today, becoming media literate is not an easy feat.
The (primarily free) resources we've listed are helping instill and refine media literacy in the public. From free courses to interactive games, there is an easily-accessible resource for virtually every type of learner to hone their critical thinking skills.
Findings from Harvard suggest that social media use is among the factors that could facilitate the spread of fake news. Rather than wish that social media and other pathways for information dissemination were more perfect, why not teach individuals to think critically about the stories they encounter?
The media literacy tools we've listed take on this challenge. They're helping educate the public on an elemental level, and their services are more necessary than ever.
To view a full copy of the State of Misinformation 2021 Report, please click HERE.