Misinformation Fighting Directory — TrustServista: A Conversation With Emil Stetco
This article is part of our new Misinformation Fighting Directory where we interview organizations and projects that have built solutions or launched initiatives to help fight fake news and misinformation online.
The following is an interview we recently had with Emil Stetco, Founder and CEO of Zetta Cloud.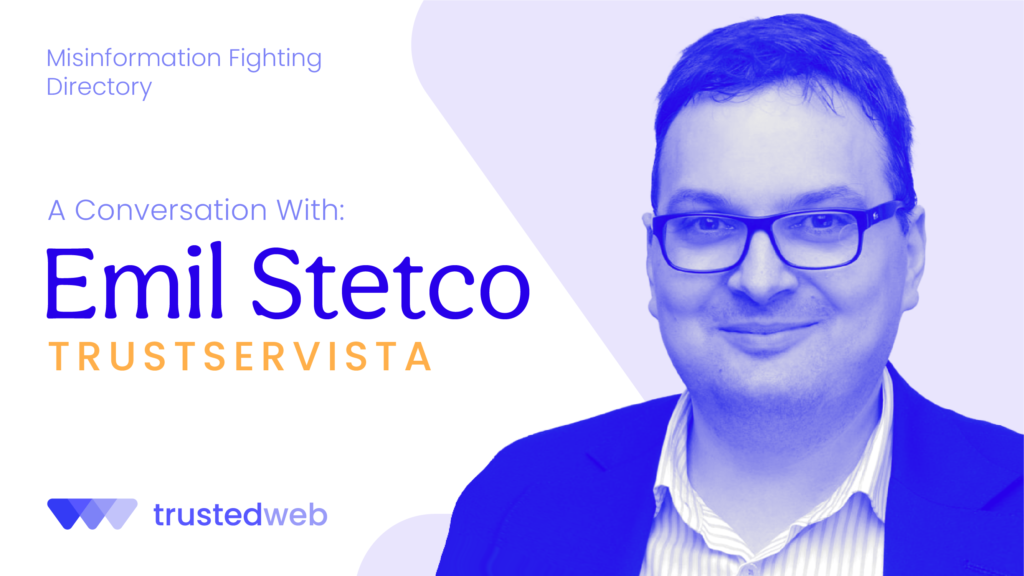 Tell us about the team behind your project
TrustServista was created by Zetta Cloud, an Artificial Intelligence startup based in Cluj-Napoca, Romania. We are currently a team of 10 people, mostly software and data science engineers, and a couple of Humanities and Political Sciences researchers.
What's the mission behind your organization?
Our company is a promoter of AI-based solutions for automated content understanding, more specific Natural Language Processing. We build these solutions using state-of-the-art Deep Learning algorithms covering European and Middle Eastern languages, as a means to optimize analysis work and make it more productive. Our software targets business processes and data analysis scenarios where information is created in high volumes, high velocity and high variety that requires to be structured and understood automatically.
How do you help fight misinformation and fake news?
Our TrustServista platform was launched one year after the 2016 US Presidential Elections, a political event plagued with misinformation. We spent several months collecting and analyzing data, and then mapping human cognitive processes used to analyze content to AI algorithms. After receiving a grant from Google Digital News Initiative, we build a software platform that can collect, process and analyze online news in the same manner an professional investigator/analyst would, resulting in an AI generated Trustworthiness score for each story. The platform – TrustServista – is currently used as an aid for analysts and journalists to analyze stories in real time, and available as a web dashboard, API and a browser plugin.
What is the impact of misinformation online to society?
Misinformation is not a new phenomena, but nowadays online information spreads very quickly and with high impact. We believe that "fake news" hasn't yet been investigated properly and at scale, and that its impact on society is even greater than perceived currently.
What's the future of misinformation online?
We believe that most of the current efforts to tackle misinformation are very narrow in their impact, and that only strategic cross national approaches would prove successful, given that a combination of skilled human resources, continuous education and technology will be used. AI will become a critical element in this effort, mostly given that Natural Language Processing algorithms have advanced rapidly in the last years, with high quality output for very specific tasks compared to those of humans.