Misinformation Fighting Directory — Logically: A Conversation With Lyric Jain
This article is part of our new Misinformation Fighting Directory where we interview organizations and projects that have built solutions or launched initiatives to help fight fake news and misinformation online.
The following is an interview we recently had with Lyric Jain, founder and CEO of Logically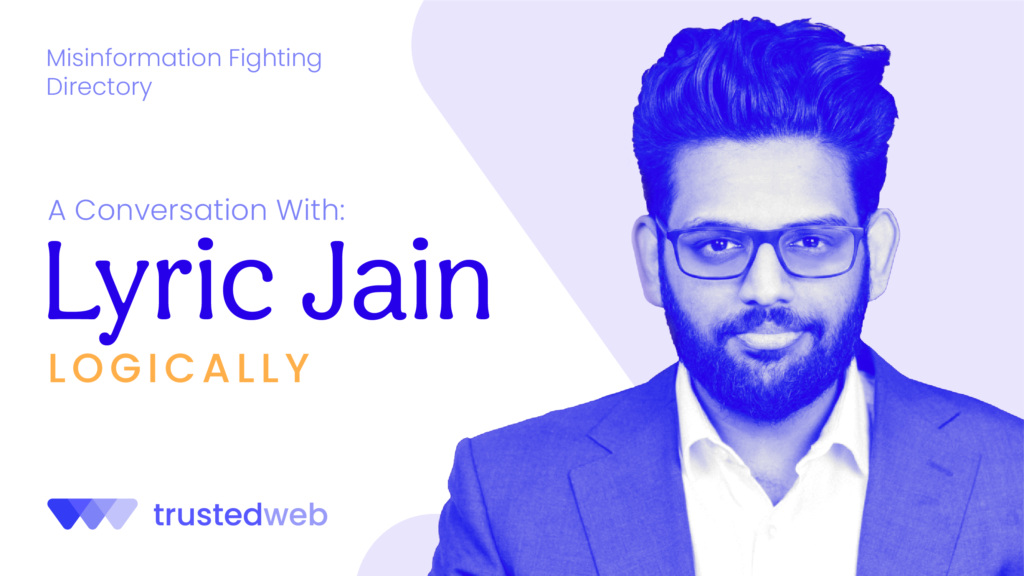 Tell us about the team behind your project:
Founded in 2017, Logically is a technology company that combines advanced AI with one of the world's largest, dedicated fact-checking teams to help governments and businesses tackle misinformation at scale. We now have over 100 data scientists, coders, writers, and developers with offices in India and the UK. Our first product launch was our mobile app in 2019, followed by our browser extension in 2020, which identifies and mitigates toxic commentary on social media. Both products are currently available in the UK, US and India with over 200,000 downloads. Earlier this year, in order to provide a tool to tackle misinformation at scale, we launched our new flagship threat intelligence platform, Logically Intelligence, which is now being used by governments around the world.
What's the mission behind your organization?
Our mission is to protect democratic debate and process, and provide access to trustworthy information. I founded Logically after observing the breakdown in public discourse during the 2016 US presidential election and the Brexit referendum in the UK. Seeing so many conflicting narratives during these events made it clear to me that something needed to be done to combat the breakdown in integrity and trustworthiness of information available online. That's why we've worked hard to design a suite of products and services intended to reduce and eventually eliminate this harm and are committed to working alongside governments, businesses and consumers to do so.
How do you help fight misinformation and fake news?
We combine state-of-the-art AI, advanced Natural Language Processing and highly scalable cloud infrastructure with one of the world's largest dedicated fact-checking teams to detect problematic content and track mis-and disinformation campaigns. Our AI provides the scalability, timeliness, efficiency and consistency necessary to combat online threats, and our human fact-checkers and investigators allow for nuanced analysis and deep-dive investigative work.
In order to step up our efforts to tackle mis- and disinformation at scale, in early March 2021 a team led by Joel Mercer, our Global Head of Product, officially launched Logically's new threat intelligence platform – Logically Intelligence. It's a powerful AI tool that can identify, analyse and disarm online mis- and disinformation. Not only is the scalability of this technology key to making a real difference, but it is also one of the only platforms to integrate both analytical capabilities and countermeasure deployment.
What is the impact of misinformation online to society?
With so much conflicting information out there, it's important to be able to know the accuracy and reliability of what we are consuming online so that we can make informed decisions in our day-to-day lives. This is particularly true during key events such as elections or global pandemics. Last year served to highlight the real-world harms that misinformation can cause in democratic nations and we continue to see false information about Covid-19 circulating and threatening citizens' health, as well as vaccine take-up and rollout. We also saw threats to election integrity, particularly during the 2020 US elections and resulting turmoil. These are very clear examples of the damage that can be caused and how easily our decision-making can be warped when barraged with false or misleading information.
What's the future of misinformation online?
Looking ahead, I certainly see challenges. The threat of online misinformation is constantly evolving and so must we. We are seeing the growth of private companies being paid to work on the other side of the fight, who are running increasingly sophisticated operations to disseminate misinformation. As well as a wider range of actors, we're also seeing a wider range of platforms being used to spread misinformation, with the emergence of alternative platforms and the increasing use of closed or encrypted messaging functions. To counter such rapidly evolving and growing challenges, we must continuously develop our AI capabilities in order to stay ahead of the curve and catch misinformation before it goes viral and does real-world harm. This is something that regulators, platforms and companies like us must all work together to achieve and I'm hopeful that we can.