12 Browser Extensions to Help You Detect and Avoid Fake News
Browser extensions are a constant companion to your online journeys. From storing your passwords to checking your grammar, they play an indispensable role in the digital experience of many web users.
What if browser extensions had the power to detect fake news in a matter of seconds? Imagine the time, effort, and frustration you would spare by having AI-powered algorithms or fleets of human fact checkers alert you to misleading articles before you even started reading.
These tools are out there. They go by an assortment of different names, but they ultimately provide similar value propositions. They alert you, the digital consumer, to bias in articles and publications.
These browser extensions couldn't be more timely. Fake news has become so prevalent that mistrust is leading some to simply ignore news-related information altogether. Why read an article, after all, if there is a chance that the author has dishonest motives?
Browser extensions are among the tools that can restore confidence in digital news media. They can help readers detect and avoid the unreliable in favor of fact-driven, comparatively honest articles and publications.
These browser extensions are only a download away. They may ultimately change the very way that you navigate, consume, or reject digital news.
Media Bias/Fact Check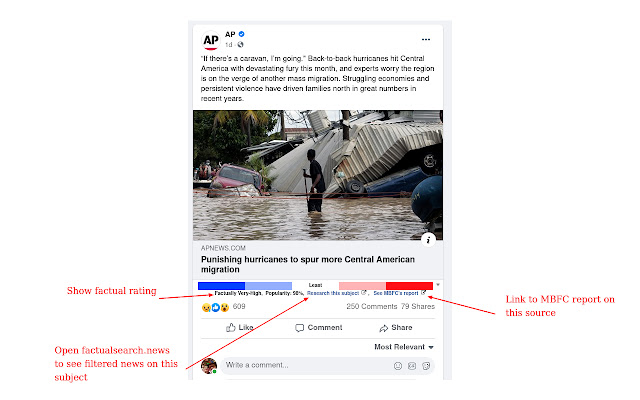 Media Bias/Fact Check is a website founded in 2015. Its mission is to make readers aware of misinformation and political bias within digital stories. It offers a browser extension for users of both Chrome and Firefox.
The extension works for news sites as well as Twitter and Facebook. Using the Media Bias/Fact Check database, the browser displays an icon showing any accuracy or bias on each page that you encounter.
When you click the MB/FC extension icon, it displays additional notes about the site. The Media Bias/Fact Check rating system includes: Least Biased, Left Bias, Right Bias, Conspiracy-Pseudoscience, Satire, Questionable Sources, and other variants. The Media Bias/Fact Check database contains evaluations of more than 3,000 websites.
FakerFact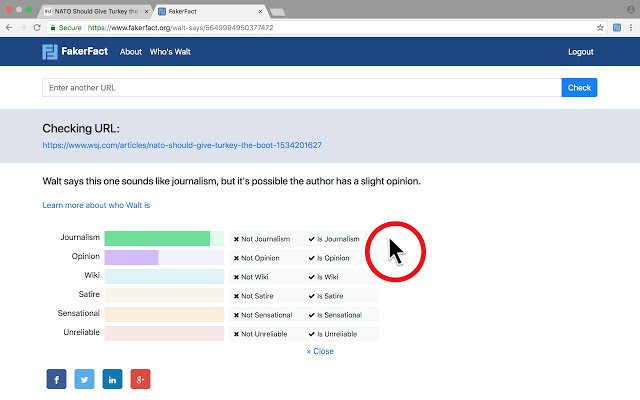 FakerFact is a browser extension centered around the services of an AI bot named "Walt". Walt reviews articles on the fly, giving its opinion on whether a piece is satirical, journalistic, a wiki, sensational, or agenda-driven. Many articles hold multiple designations.
Users simply click the FakerFact icon when browsing articles of 100 words or more. Doing so will display Walt's opinion about the article. The extension works with both Chrome and Firefox.
The extension is currently in its beta stage, but may help you develop your own critical eye when it comes to digital content. Users can also visit FakerFact.org to submit specific URLs for Walt's diagnosis.
TrustServista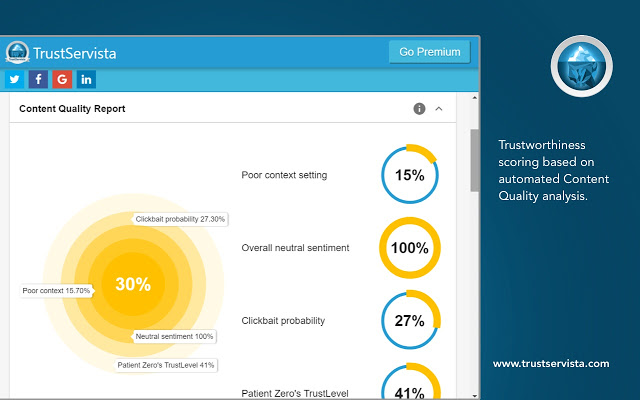 TrustServista is an AI-powered browser extension and platform aimed specifically at media members, fact checkers, and content creators.
The extension analyzes any digital news article. All users have to do is click on the extension icon. To gauge the trustworthiness of articles, TrustServista examines the style, factual references, context, and other relevant facets of a written work. It generates an overall trustworthiness score for each piece of news.
Free users can verify up to 300 URLs per month, while those who pay $2.99 per month can use TrustServista for an unlimited number of articles.
Stopaganda Plus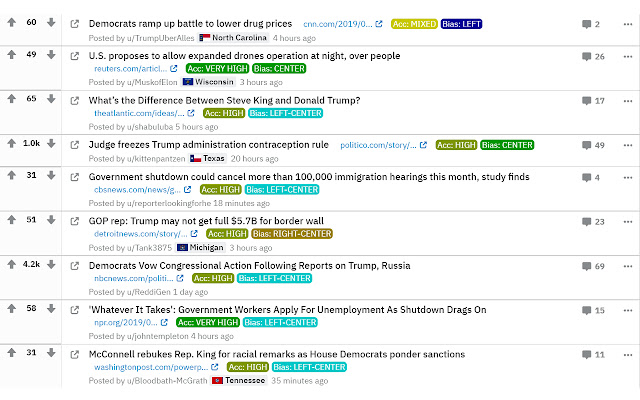 Stopaganda Plus is a fact-checking and bias-detecting browser extension. Its evaluations are based on the ratings of fact-checking site Media Bias/Fact Check.
Stopaganda Plus works with both Chrome and Firefox. A unique feature of the extension is that it works with Reddit, Twitter, Facebook, DuckDuckGo, and Google. It is fashioned to detect both inaccurate information and biased sources.
Stopaganda Plus may be a useful tool for those seeking politically-neutral news articles. It may appeal specifically to Reddit users, as it displays bias tags (Right, Left, etc.) for articles posted on Reddit threads. This eliminates the need to click individual posts and examine them for bias or inaccuracies.
Check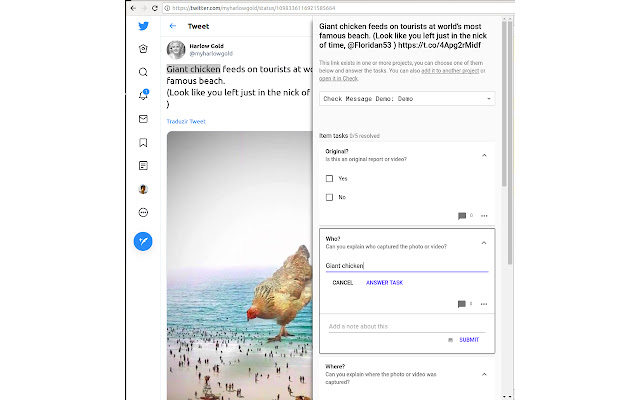 Check is a browser extension from Meedan, a technology-focused non-profit. The purpose of the extension is to "improve the investigative quality of citizen journalism and help limit the rapid spread of rumors and misinformation online".
Built for collaboration, it allows a digital team to post links in need of fact-checking to a shared dashboard. If the media posted in the sidebar is already on Check, then the extension will let the poster know.
Check is more of a collaborative organizational tool than active fact-checking service. Still, it can provide value for teams that are willing and able to do their own fact-checking.
TrustedNews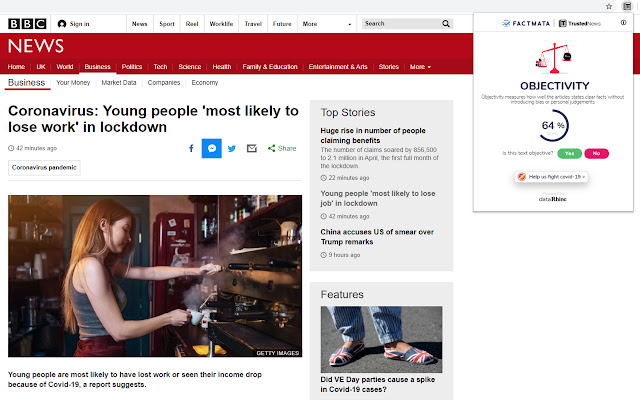 TrustedNews is a Chrome extension from Eyeo, the creator of Adblock Plus. First released in beta in 2018, version 1.1.0.1 (which was updated in October 2020) is available on the Chrome Web Store.
The plugin focuses on the language of a news article to detect opinion or bias. It identifies phrases like "in my opinion" to alert the reader when an author injects their own beliefs into an article. Though this may not catch more subtle forms of bias, it can be helpful as a convenient red flag for articles that contain overt opinions.
The TrustedNews extension relies on fact-checking services like PolitiFact and Snopes to gauge the veracity of online content. Sites, rather than individual articles, are rated as biased, malicious, user-generated content, satire, clickbait, untrustworthy, or unknown.
You can read more about the TrustedNews rating system here.
The Factual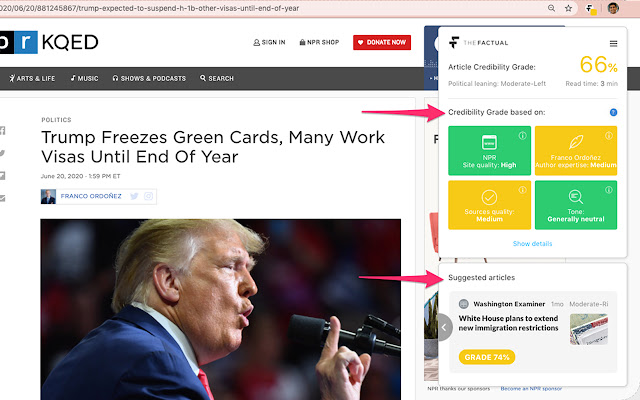 The Factual is an algorithm-powered app and browser extension that rates the credibility of digital news articles. It generates credibility ratings for more than 10,000 news articles each day.
The browser both evaluates the credibility of articles you encounter as you view them and applies existing ratings to articles in your social feeds. The latter feature is meant to help you locate trustworthy stories while avoiding fake news-y ones.
Logically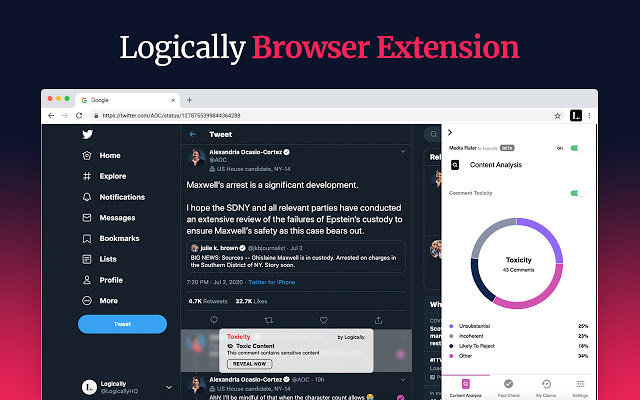 Logically is a fact-checking service and platform for the private, public, and consumer sectors. In August 2020, it announced the launch of its browser extension, which exists parallel to the Logically app.
Logically's AI is formed in combination with research partners and assessments from experts in the fact-checking field. The browser extension relies on Logically's assessments to identify trustworthy sources, and conversely those that are questionable.
Using the extension, users can create a list of Trusted Sources. Those sources will show up on their news feeds. Alternatively, users can mute sources from their social and news feeds based on personal preferences.
The Logically extension also provides detailed information about authors of news articles for greater context. It analyzes the "toxicity" of comments on articles, evaluates sourcing, and explores how stories are being shared socially. This is all meant to provide the reader context about the information they encounter online.
CaptainFact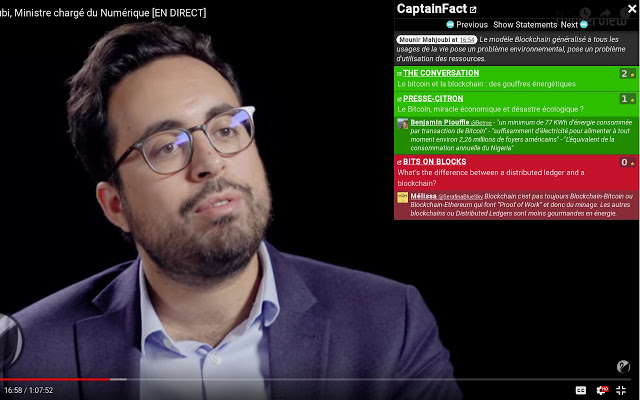 CaptainFact is a "collaborative fact-checking platform" with a browser extension for both Chrome and Firefox.
It is primarily aimed at video media. On platforms like YouTube, creators who use CaptainFact allow viewers to engage with their videos. Specifically, viewers can comment on the veracity of the content in the video, and the creator can respond.
From overt mistruths to omissions and other types of fake news, CaptainFact brings open-source fact-checking to visual media online.
NewsGuard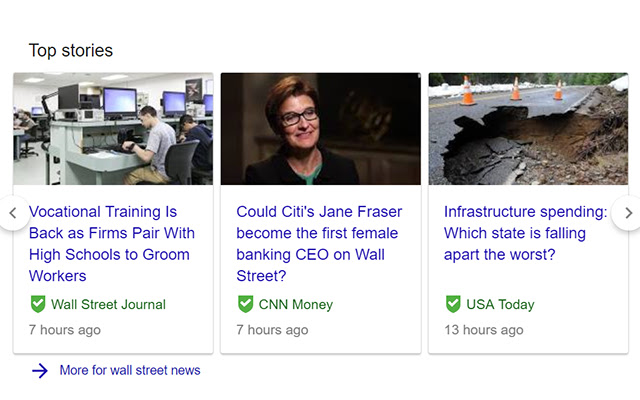 NewsGuard is a browser extension that provides trust ratings for online news. Those ratings are generated by humans, not algorithms, which is a selling point for the extension.
It has trust ratings for more than 6,000 sites, and claims that its rated sites account for 95% of online engagement. The rating system is binary: green for trustworthy, red for untrustworthy.
NewsGuard relies on "experienced journalists" to formulate its ratings. Green sites are those that adhere to "basic standards of credibility and transparency". Red sites are those that do not honor journalistic standards, including those with clear agendas or re-reporting of misinformation.
You can read more about NewsGuard's rating criteria here.
Newstrition by Our.News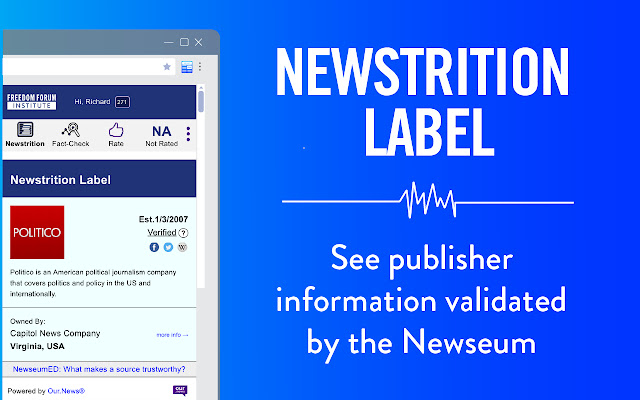 Newstrition is an app, as well as browser extension, that applies "Newstrition" labels to online news stories. The labels are meant to reflect the accuracy, transparency, and objectivity of specific news articles.
It bases its labels on the publisher's credibility, as sourced from fact-checking site AllSides. It also considers the sources the article relies on, reputations of the article's authors and editors, findings from other fact-checkers who have reviewed the article, and ratings from users of Our.News.
The Newstrition label accounts for bias, accuracy, and content type (satire, clickbait, etc.).
Hoaxly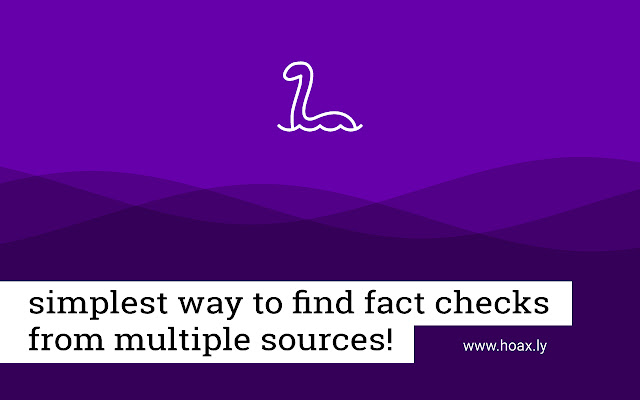 Hoaxly (also stylized as hoax.ly) is a browser extension currently offered for use with Chrome. For each website and specific URL that you visit, the Hoaxly bot compares the link with its index of fact- and bias-checked URLs.
The index contains reports that specific URLs could or do contain fake news. For matching articles, Hoaxly users will be alerted that the page they are reading could contain misleading or untrue information.
The Hoaxly team also offers chatbots and a fact-checking application programming interface (API). It has suggested that continued use of its Chrome extension may lead them to develop a Firefox-specific extension.
Closing
Being a digital citizen means being barraged, constantly and from all angles, with information. Hiding surreptitiously within seemingly-harmless paragraphs of letters and punctuation is misinformation—fake news with a true corrupting potential.
But who has the patience to comb every article for signs of bias or shameless falsehoods?
We know that most humans don't have this capacity for fake news spotting, at least not consistently. Information overload has fueled an "I'll take your word for it" approach to digital news consumption. Fake news is blossoming as a consequence.
Everyone who gets any sort of information online should embrace technology's help.
Browser extensions can handle the minutiae of fake news detection. By providing real-time or archived reports of an article or website's legitimacy, these tools allow a more efficient path to the information that you seek.
Simply embed one or more extensions into your Chrome or Firefox browser. You may soon find that sifting through fake news isn't your job alone, but instead largely the work of your browser extension.
In a time when fake news is becoming increasingly sophisticated, why not embrace AI and human fact checkers as your allies in thwarting the threat of misinformation?